Who doesn't love a gorgeous and cute pink phone case? We think encasing your device with a pretty pink case is the best decision you could make. The selection of pink phone cases below will make your choice easier and showcases our 10 best ones. Give your phone a bolder and cuter look for summer with these pink phone cases.
With super cute and pretty designs waiting to be yours, we want to discuss our 10 best pink phone cases.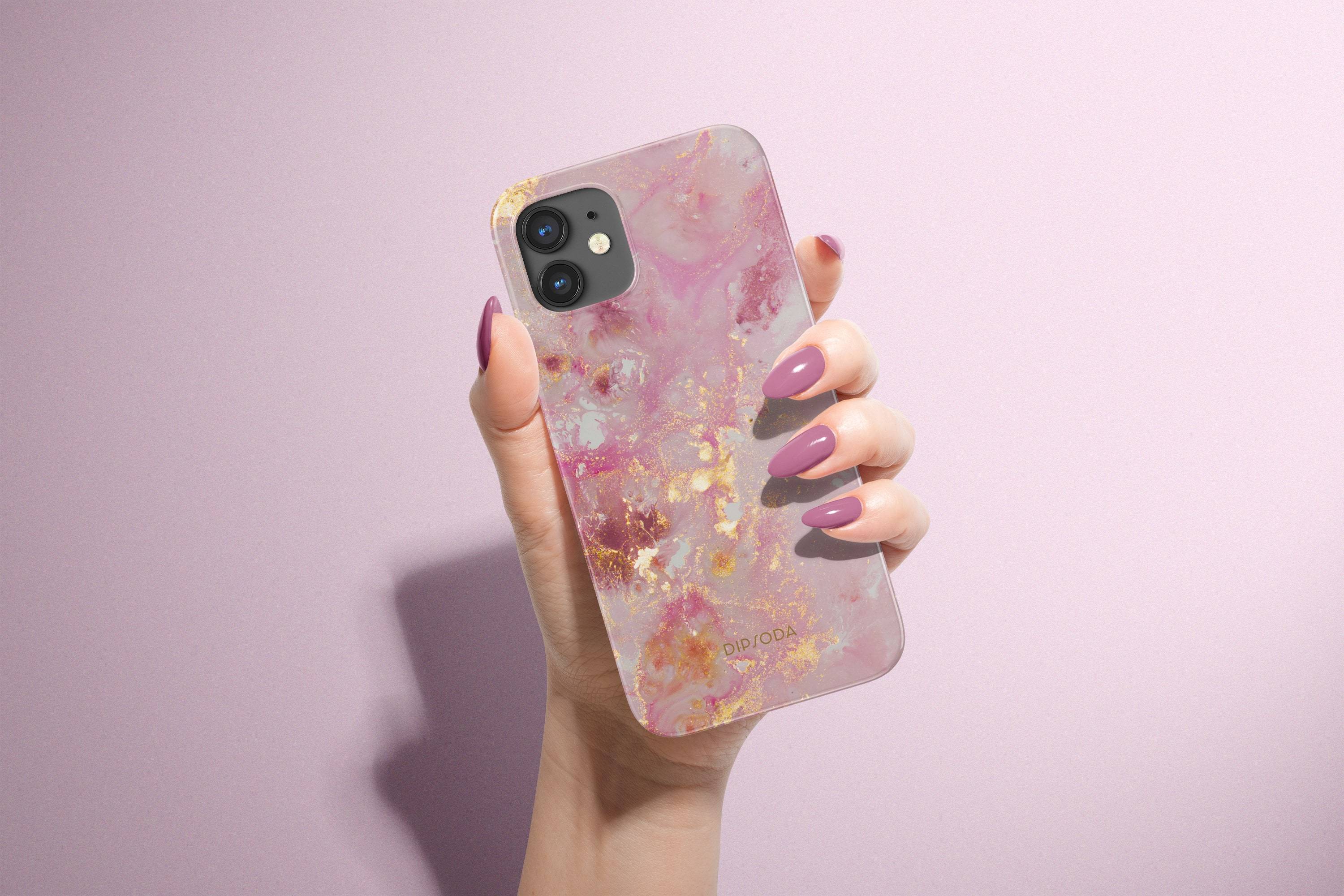 Sunset Kiss is our most popular pink phone case design. The gorgeous creation infuses stunning hues of pink and yellow to make a beautiful marble swirl effect that's perfect for dazzling. The light and dark pink colours blend and complement each other, whilst the highlights of yellow and orange give a brighter substance to the overall design. Although there is no actual glitter or shimmer in this print, it's still super stunning and will look fabulous on your device.
You can get Sunset Kiss in both our snap case or impact case. If you are someone that likes to keep the feel of the device's shape, then our snap case is the best option for you. It's a hard plastic glossy shell that simply 'snaps' onto your device without adding extra bulk. It means your device retains its original shape. Our impact case is for those that need that extra level of protection. Made up of two protecting layers, the impact case is great if you drop your phone regularly, as it can offer more protection. The inner rubber silicone insert absorbs any impact whilst the hard plastic glossy shell keeps your device looking gorgeous.
Summer Sorbet is a cute phone case design that blends together pink, purple and blue to create the perfect summer phone print. It's a cute tie-dye design that is cool and unique and will look amazing on your device. The blended pastel hues create a stunning summer phone case. Summer Sorbet is available for both Apple iPhone and Samsung Galaxy devices. This is a gorgeous pink phone case design that will brighten up your device instantly.
Finding it difficult to choose between our snap case and impact case? We suggest opting for our snap case version if you want to keep the design simple and slim. Snap cases are a single hard glossy plastic shell that easily snap onto your device. They are slim and sleek and do not add extra bulk to your device. On the other hand, our impact cases offer great protection for your device with their dual layers. A black rubber silicone insert and hard glossy plastic shell make up the impact case version, which provides ultimate drop protection.
Lets conclude our 10 best pink phone cases
Join others by following @dipsoda and tag us for a chance to be featured 🌟